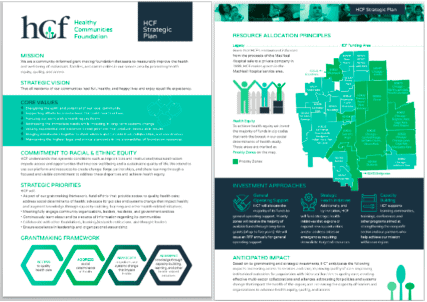 17 Aug

HCF Announces New Focus on Health Equity

The Healthy Communities Foundation (HCF) has gone through an in-depth strategic planning process and has fine-tuned its focus to address the root causes for health disparities within the 27 zip code region served by its legacy institution, MacNeal Hospital. On August 17, HCF will begin accepting applications for General Operating Support from area non-profits that address the social determinants of health. In 2018, HCF will be investing about $6 million.

"When we talk about the social determinants of health, what we mean is that health is broader than access to quality health services," explained Maria Pesqueira, President, HCF. "We aim to address the conditions that influence health and access to care so that all of the residents of our region enjoy their full potential for good health."

HCF commissioned research focused on its 27 zip code communities and met with residents, local service providers, academic researchers, and national and local experts to create a data and experience informed strategic plan. The full report is available here.

"The board is inspired to address the 20-year disparity in life expectancy for residents in our service area, depending on which zip code one resides in," said Grace Hou, HCF Board Chair. "Through the review of science and listening to the voices of community leaders, the root causes of health inequities can be revealed and addressed; in this regard, we are committed to working in partnership with grantees and others to achieve higher quality, greater access, and more equitable outcomes in our region."

HCF's strategic priorities include funding efforts that: provide access to quality healthcare;
address social determinants of health; advocate for policies and systems change that impact health;
and augment knowledge through capacity-building, learning, and other health-related initiatives.

To achieve health equity, HCF will prioritize its work by spending the majority of resources to impact the areas of its region with the highest health disparities, called Priority Zones, (See Map). "We understand that systemic conditions such as implicit bias and institutional/structural racism impede access and opportunities that improve well-being. We intend to use our platform and resources to create change, forge partnerships, and share learning through a focused and visible commitment to address these disparities and achieve health equity," Added Elyse Forkosh Cutler, HCF board member.

The 2018 general operating grant application opens August 17, and applications are due September 17.  General operating support grants will be made to organizations that provide services in the communities we serve and demonstrate real and tangible outcomes that impact health. 

HCF will phase in its grantmaking strategy, beginning with general operating support in 2018 and expanding to strategic initiatives and capacity building support by 2020. The Foundation's investment approach aims to address urgent needs and fulcrum issues that create a culture of health equity and lead to sustainable solutions and long-term health policy change.

HCF will present its research findings and strategic plan, and answer questions about the 2018 grant application at a community meeting on Tuesday, August 21.

Info Session Details

What: Introducing Healthy Communities Foundation's new focus

When: Tuesday, August 21st, 2018, 8:30 AM breakfast/networking. 9 AM – 10:30 AM program

Where: Riverside Village Hall, 27 Riverside Rd, Riverside, IL 60546

Who:   HCF Board and staff

RSVP: RSVP to cperez@hcfdn.org.